Welcome to the Brolic Army DJ School by Rob Swift.
A DJ platform where expert instructors and informative lesson plans provide a customizable path of learning for beginner, intermediate and advanced DJs!
"The Brolic Army DJ School helps students cultivate the skills it takes to forge their own unique trail to success."

"Learning to mix, scratch and beat juggle takes a combination of effective teaching and hard work. There is no shortcut to becoming a well-rounded DJ, but having the techniques and styles of practice broken down for you sets you on your journey to long-term success. This is why I created the Brolic Army DJ School. Whether you have no experience DJing and are excited to learn, or if you're struggling to improve your current DJ game, my courses will take you on an exploration of all I've learned throughout the past 30 plus years of creating, mastering, performing and teaching the art of DJing."

– DJ Rob Swift
Brolic Army DJ School Courses:
All courses are included in each membership level.
9 Courses:
Basic DJing (4 Videos)
Basic Scratching (4 videos)
Fundamentals of Beat Juggling (10 videos)
Advanced Beat Juggling (3 videos)
Training Camp with DJ Rob Swift (19 videos)
Workshop Archives (33 Videos)
Advanced DJing (2 Videos)
Masterclass (27 Videos)
Advanced Scratching (3 Videos)
Each video is a fully comprehensive guide and contains easy to understand instruction so that members get a total learning experience. Tutorials in scratching and juggling include full history and context taught by one of the OG's of the game.
More courses are on the way!
Sign Up for the Brolic Army Mailing List:
Whats Included in the Brolic Army DJ School Membership?
$49
Monthly
$49 billed monthly
$249
6 Month
$249 billed every 6mo. Save $90 per year.
$749
Lifetime
$749 billed once.
FREE DOWNLOAD pack of original scratch beats
Full access to ALL EXCLUSIVE HD DJ Tutorials, Scratch Workouts and Masterclasses
Access to our MEMBERS ONLY EVENTS such as the Brolic Army Civil War Annual Online DJ Battle + Seasonal online showcases
SITE-WIDE DISCOUNT on all merchandise and branded products
Access to the online community: Forums + opportunity to get featured on the @brolicarmy IG page.
BROLIC ARMY ALUMNI
The Brolic Army has a host of accomplished alumni. Many began with little to zero knowledge of DJing, or had only experienced DJing on controllers. Rob Swift's Brolic Army DJ School and Community has transformed the abilities of thousands of DJs. Alumni range from from popular Club DJs, to Nationally and Internationally known Battle Champions. The Brolic Army has seen its' students along their journey to creative expression and mastering the art of DJing.
BROLIC ARMY DJ SCHOOL COURSES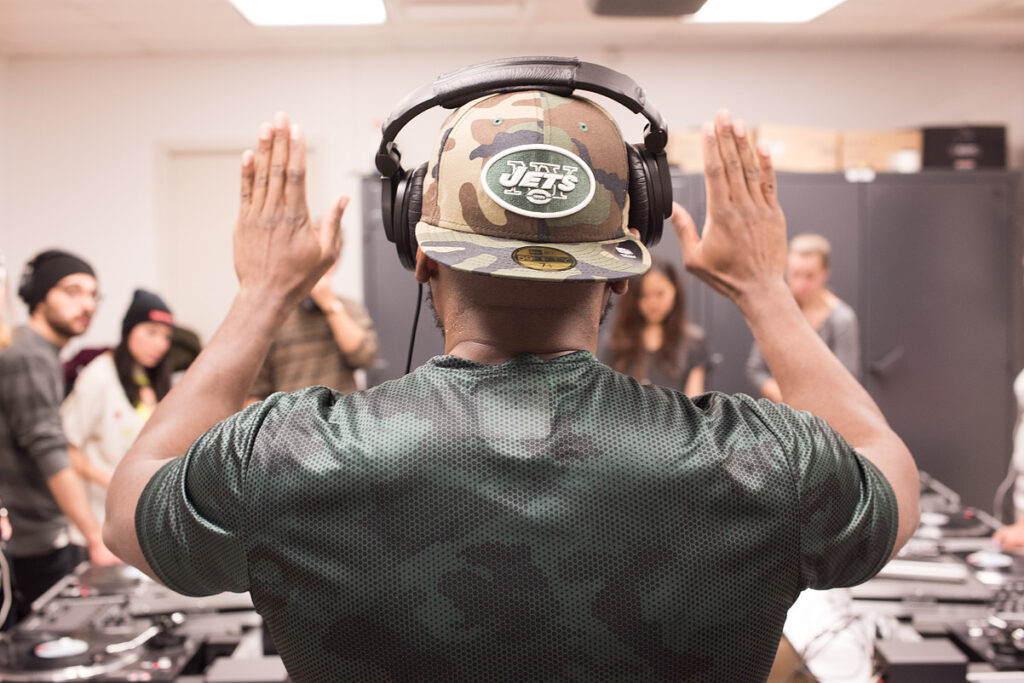 Course 1- Basic DJing with Rob Swift
Hip Hop icon and pioneer DJ Rob Swift teaches fundamental DJ techniques. You will learn everything hand mechanics to listening and basic mixing techniques. This course will help you manually control the tools of the trade. You will also hone in on your listening and learn basic mixing styles.
Lecture A: Hand mechanics
Examining how to manually control the tools of the trade (turntables, mixer, needles, headphones etc.)
Lecture B: Listening
Analysing the importance of understanding bars, bar structure and quarter, eigth and sixteenth notes.
Lecture C: Mixing and Dropping on Beat
Demonstrates how to transition from one turntable to the other seamlessly by performing straight drops and "baby scratches"
Lecture D: Building a DJ Set
Arrangement: comprehensive details example on how to build a set. Together we explore how to apply fundamental DJ techniques in arranging a fluid DJ set.
Genre and BPM: understanding how to organise various styles of music.
Best suited to beginners or those wanting to improve their turntable instincts.
Course 2- Basic Scratching
In this course we review the 9 cornerstone scratch techniques, the baby, scribble, tear, forward release, forward stab, forward drag, reverse drag, transformer and chirp scratches.
As well as learning each technique, this course is designed to help you learn how to phrase scratches so that you can take your knowledge to the next level, creating scratch routines, improving social media content and more.
Lecture A: Faderless Scratches
Baby, Scribble and Tear and Scratch Workout
Lecture B: Forward Scratches
Forward Stab and Release and Scratch Workout
Lecture C: Intermediate Scratches
Chirp, transform, reverse drag and Scratch Workout
Lecture D: Phrasing scratches
Combining the nine cornerstone scratches.
Each lecture has an accompanying Scratch Workout aka 'Training Camp' designed and hosted by DJ Rob Swift to help you practice your scratches and improve your confidence and fluidity.
Course 3- Rob Swift's Fundamentals of Beat Juggling
Rob Swift explains how to manipulate drum beats, words, etc. on both left and right turntables simultaneously through the application of the 10 Root Movements of "Beat Juggling". This course is our most popular course from DJ Rob Swift. As a pioneer of beat juggling and creator of the 'Swing Pattern' there is no one better to teach these techniques.
1. Backspinning + Backspinning with 1/8th and 1/4 note fills
2. Breakdown Pattern
3. Snare Pattern
4. Offset Backspin
5. Rock the Bells Pattern
6. Swing Pattern
7. Chase/Strobe Pattern
8. 8th Note Linear Single Fills
9. 8th Note Linear Double Fills
10. 8th Note Linear Triplet Fills
Course 4- Advanced Beat Juggling
This advanced beat juggling course will help you take your skills to the next level. Now you have learned the root moves, you will learn to create your own patterns, how to combine all of the root moves to become a more creative beat juggler. The emphasis in this course is creativity and self expression. Beat Juggling is not just being able to do somebody else's pattern, but creating your own unique patterns and combinations too.
1. Chase pattern with 8th note fills
2. Snare Pattern (Level 4)
3. Total Eclipse's Rolling Fills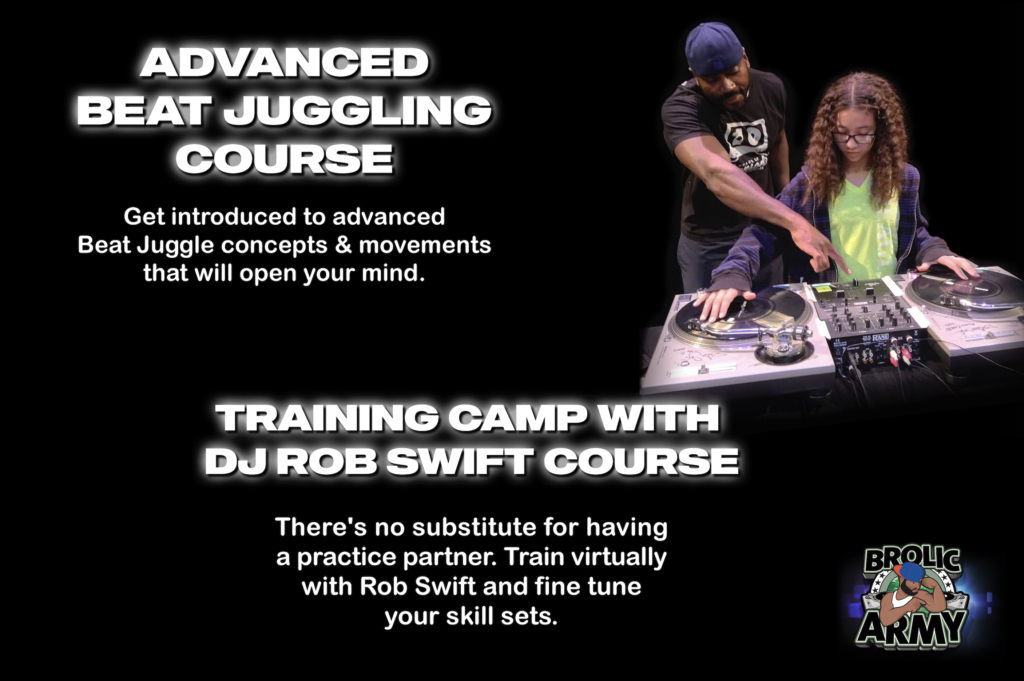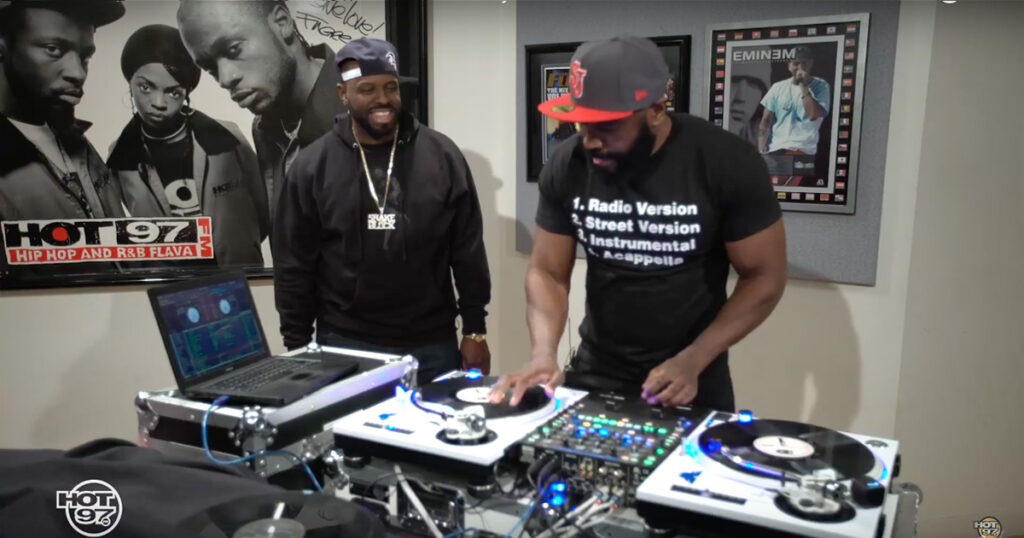 Course 5- Training Camp with DJ Rob Swift
Training Camp with DJ Rob Swift is a practice based course. This course contains four Scratch Q&A practice videos to help those who already understand the fundamentals of the scratch techniques improve and elevate their scratching.
1. Faderless Scratches
2. Forward Scratches
3. Intermediate Scratches
4. Combining the 9 Cornerstone Scratch Techniques
5. Fader Grip
6. The Mix Master Ice Scratch
7. A Guide to Composing a Battle Routine
8. Applying the Mix Master Ice Scratch
9. Orbit Flare Scratch
10. Articulating the Crab Scratch
11. Articulating the Boomerang Scratch
12. Combining multiple scratching patters in a solo
13. Scratch Phrasing
14. Listen and Modify
15. Negative Space Perception
16. Christmas Scratch
17. We're Just Practicing Our Chops
18. The Mechanics of Scratch Combinations
19. Fader Hand Anatomy
Course 6- Workshop Archives
This courses "Workshop Archives" is a hub for past and present academic lectures, workshops, cultural residencies and video podcasts Rob has participated in. These events are done in collaboration with other organizations broaching topics that Rob teaches in his courses on the Brolic Army DJ School.
BACKSPINZ DJ WORKSHOP PART 1: Tips for Building a DJ set
MIT Lecture: The 5 Tenents of DJing
BACK SPINZ DJ Workshop Part 2: Personalizing Beat Juggling Patterns
BACK SPINZ DJ Workshop Part 3: Comparing DJ Scratch's and Steve Dee's Linear Fills
BACK SPINZ DJ Workshop Part 4: History of Beat Juggling
BACK SPINZ DJ Workshop Part 5: Hand Explosiveness
BACK SPINZ DJ Workshop Part 6: Keep Calm and Composed
BACK SPINZ DJ Workshop Part 7: Why are DJ fundamentals important?
The Mechanization of DJ Art Part 1: Introduction
BACK SPINZ DJ Workshop Part 8: Tips on mastering the "Crab" scratch
The Mechanization of DJ Art Part 2: Learning to DJ the organic way
The Mechanization of DJ Art Part 3: Importance of community amongst DJs
SCRATCH (Directed by Doug Pray) Dr. Butcher & Steve Dee Interview Outtakes
Cali, Colombia's Binantional Center Lecture
X-Ersize: X-Men Documentary
SHURE In-Store
How To DJ with Honda, Roc Raida and Mista Sinista
The Value of Mentorship in DJing
Perfecting "Chase" patterns with 8th note fills
Table Talk with Rob Swift part 1
Table Talk with Rob Swift part 2
Table Talk with Rob Swift part 3
Table Talk with Rob Swift part 4
Table Talk with Rob Swift part 5
On The Record featuring Dr. Butcher, Mista Sinista & Rob Swift part 1: Origins. Training. Discipline.
On The Record featuring Dr. Butcher, Mista Sinista & Rob Swift part 2: Mentors. Routines. Creativity.
On The Record featuring DJ Michelle & DJ Shock: Inspiration. Persistence. New Book.
On The Record featuring Dr. Butcher, Mista Sinista & Rob Swift part 3 – Raida. Rappers. Business.
On The Record featuring Dr. Butcher, Mista Sinista & Rob Swift part 4 – A. I.
Berklee Abu Dhabi: Mixing Cultures through Hip Hop DJ Workshop
DJ Rob Swift | WithOut No DJ Podcast (PART ONE)
DJ Rob Swift | WithOut No DJ Podcast (PART TWO)
DJ Rob Swift | WithOut No DJ Podcast (PART THREE)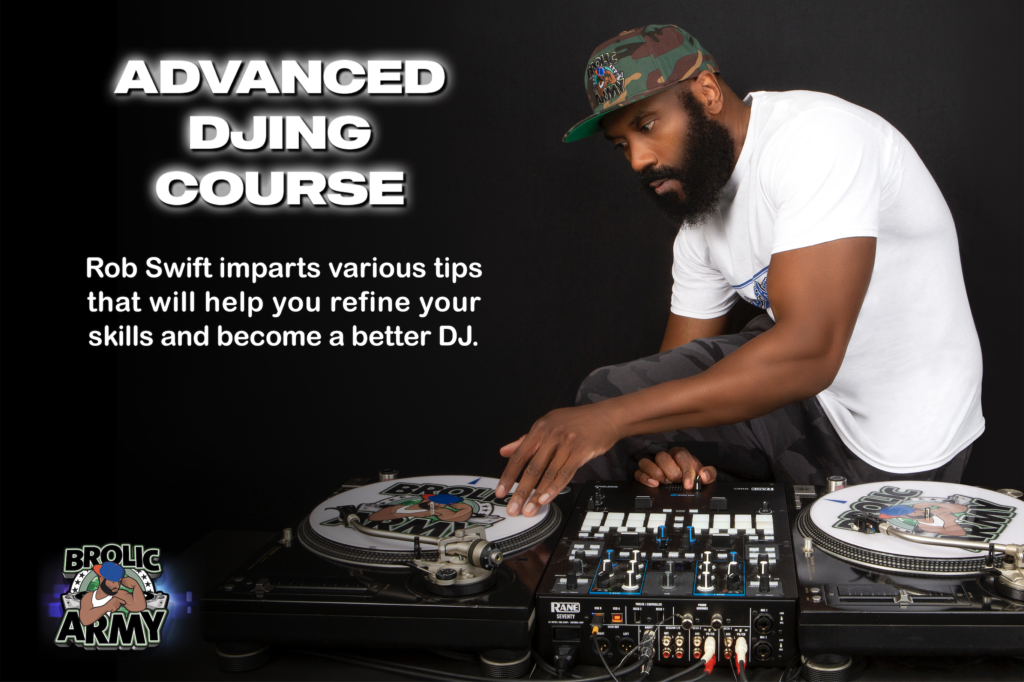 Course 7- Advanced DJing
DJ Rob Swift teaches advanced DJ techniques in this course on Advanced DJing. This course focuses on elevating DJ sets and routines and features tutorials on advanced mixing techniques, and ways of incorporating the three main facets of DJing (mixing, scratching and beat juggling) into your work.
More lessons to come…
EQ Mixing and Looping
Music Editing and Programming
Course 8- Masterclass
This course is a hub for tutorials by our guest teachers. We strive to give a holistic approach to DJing at Brolic Army and how better to do that than bringing the pioneers straight to you.
From Battle routines, to beat juggles and scratches. The 'Masterclasses' course is an exciting added feature to help diversify your learning experience.
"It's important to absorb multiple perspectives on the material taught on DJing. From techniques, to history, to making a career of DJing or just expanding your skill and mindset. The more you listen to and absorb, the more well-rounded you will be as a DJ, carrying the torch into your work, and the next generation."

DJ Rob Swift
Total Eclipse: DMX Routine
DJ Johnny Juice teaches Curating and Composing Scratches
John Swan: "Hit Me Wit' Da Horns" Scratch Routine
DJ 8-Ball teaches "Tone Play"
Mista Sinista: "S.W.A.T." Routine
Grandmaster Supreme teaches Body Tricks
DJ P teaches how to DJ on Vinyl
DJ P teaches how to mix Acapellas
DJ P discusses trusting your creative instincts
DJ P discusses curating an energetic set
Grandmaster Supreme on how to build a battle routine
John Swan breaks down Scratch Drumming
Branden Creado on improving your hand control
Mista Sinista: "Method Man" Routine
Mista B: "Mophono" Routine
DJ P teaches the basics of multi-track recording
Mike C teaches fundamental Trick Mixing
Critical examination of composing a Beat Juggle routine with Mike C
Mike C's guide to recording studio scratches
Framing a Scratch routine with Branden Creado
Mixing in Key with DJ Wigginz
Total Eclipse's "Ante Up" Routine
Stems DJing – A Beginner's Guide With DJ Wigginz
Mista Sinista: "AJ Scratch" Routine
Crafting A Scratch Routine With DJ Wallzee
026 – Mike C discusses DJing for MCs
027 – Composing A Hybrid Battle Routine with DJ Wallzee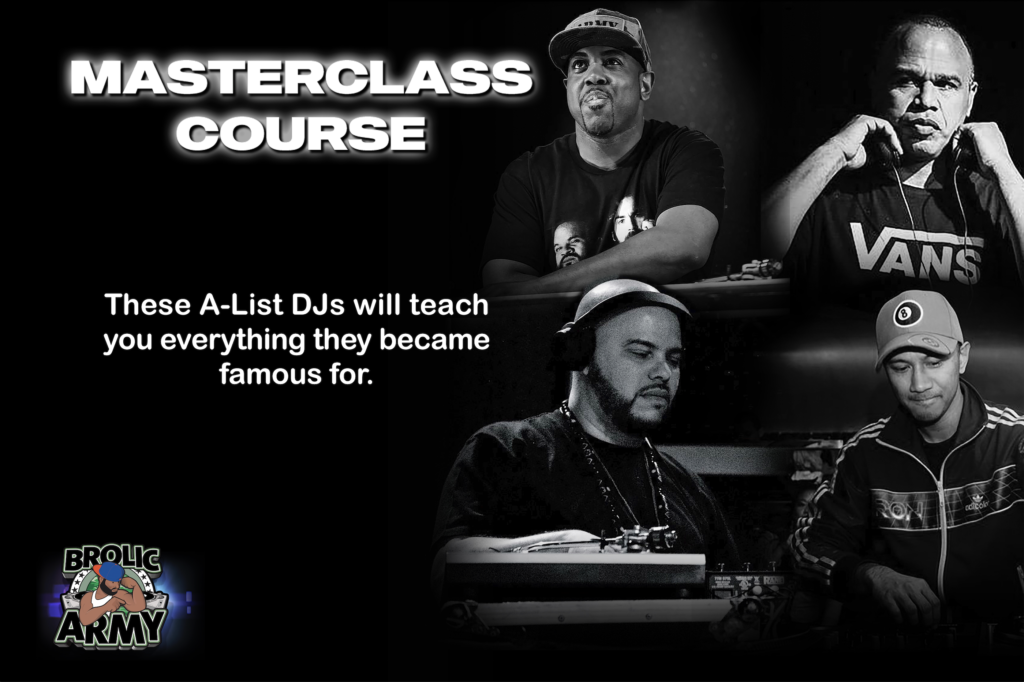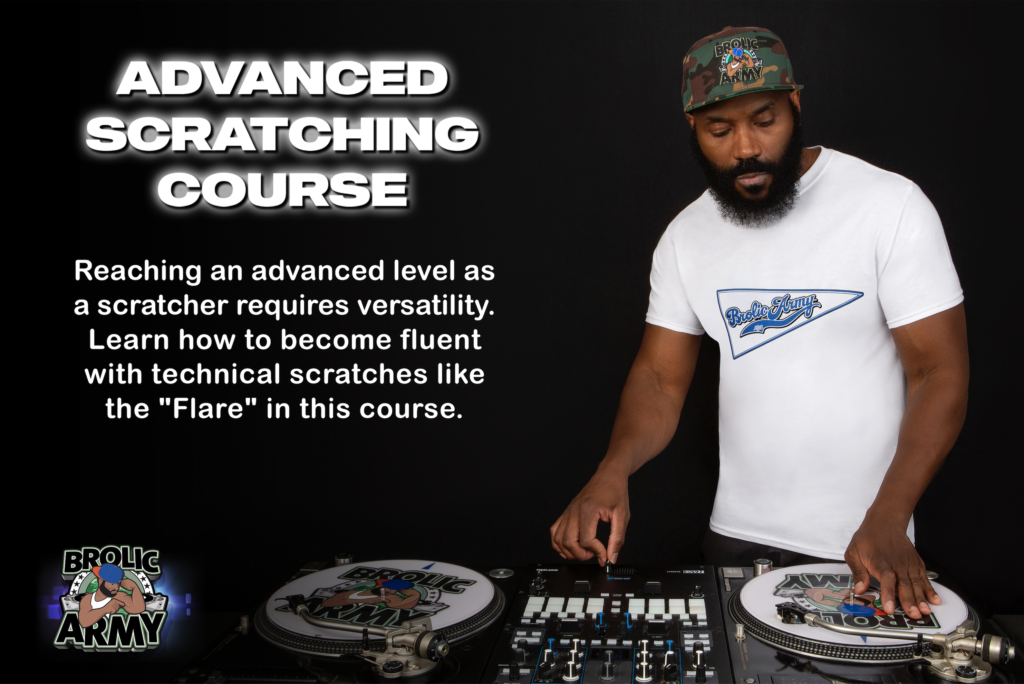 Course 9- Advanced Scratching
DJ Rob Swift leads this Brolic Army DJ School course on Advanced Scratching techniques. Expect to learn scratches such as DJ Disk's "Orbit Flare", The Invisibl Skratch Piklz' "Crab Scratch" and other techniques. Each Brolic Army course is updated regularly with new tutorials on a regular basis!
In line with DJ Rob Swift's typical teaching style, he focuses his tutorials on both the history and the execution of these techniques. Rob Swift aims to empower the next wave of DJs in becoming active participants of the culture, passing down the knowledge for generations to come. Advanced Scratching is no exception.
""This was very clear, concise, and easy to understand. This in turn makes me more excited to practice now that I know what to focus on. Thank you Sensei Swift ?"

Nedimthedream – Member since Feb 2021
DJ Disk's Orbit Flare Scratch
DJ Q-Bert's Crab Scratch
DJ Flare's Boomerang Scratch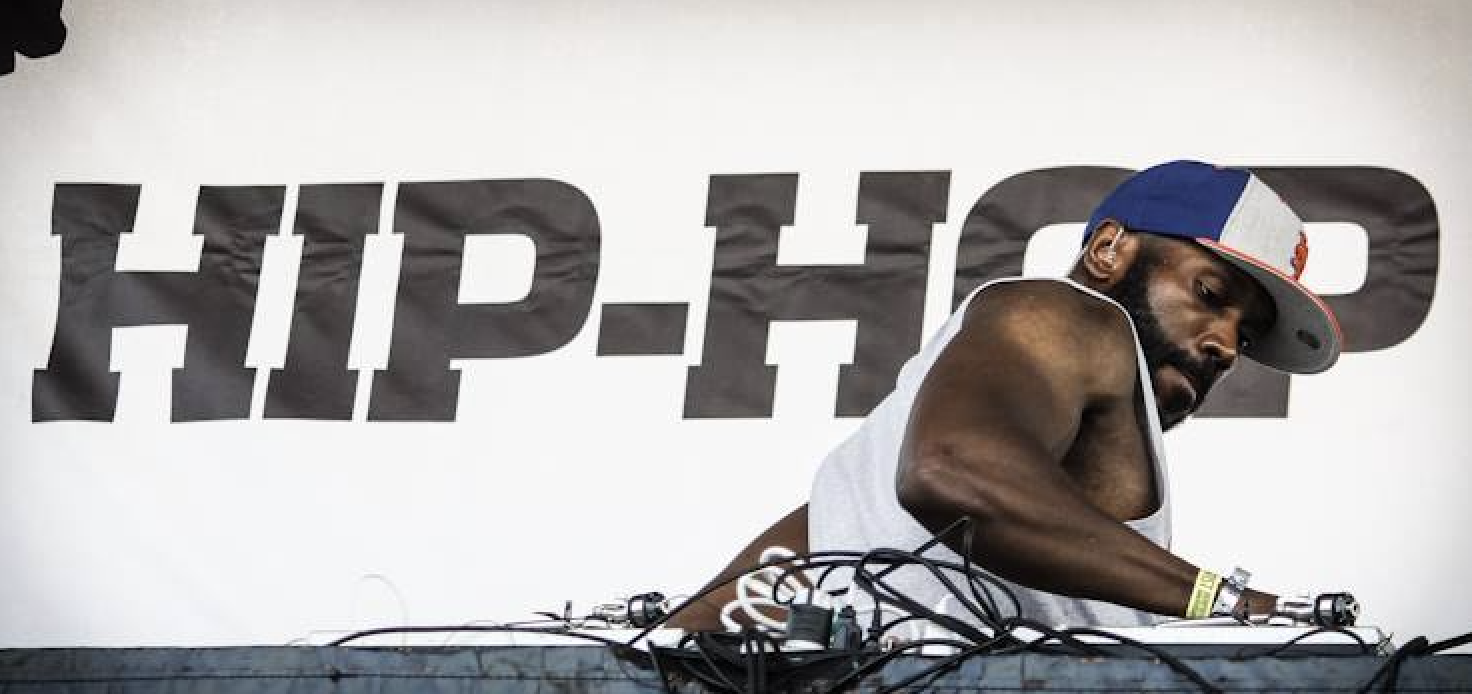 And for a cat like Swift—who has worked with everyone from Linkin Park to the Red Hot Chili Peppers to Mike Patton to Herbie Hancock—truly forward-thinking, revolutionary music just seems to come naturally.
Where it all began…
After years of honing his skills on the wheels of steel under the tutelage of his older brother, father and mentor, Rob Swift was tapped, in 1991, by a Harlem-based DJ crew called the X-Men to join their ranks. Within a year he won the coveted DMC East Coast title and became known, worldwide, as a masterful DJ and a force to be reckoned with.
Their 1997 debut album X-Pressions (Ashpodel) served notice, with dirt-funky tracks like "Word Play" making it clear that Swift the recording artist was on the rise. Five years later, the group's first major-label debut Built From Scratch (Loud/Columbia) generated the huge hit "It's Goin' Down" featuring Linkin Park.
Breaking out as a Solo Artist
After 13 years with the X-Ecutioners, Rob was inspired to establish himself as a soloist and break through with a series of genre-busting albums of his own. The first being 1998's The Ablist. Sound Event (2002), his second solo effort, set the tone for his ascendant multi-faceted production style, mapping dark jeep beats ("Hip-Hop on Wax," with Large Professor), Latin Jazz ("Salsa Scratch," with Bob James) and ambient-electronic funk (the psychedelic "Interview with Colored Man," with Supernatural) accompanied by the deft touch of a seasoned studio hand.
"Whether it's as a solo artist or collaborating with other like minded artists, I just want to push the boundaries of what I do", Rob says. "I'm just trying to figure out different avenues to introduce people to the true art of DJing. However I reach people, the main thing is that we all get to enjoy that musical connection."

DJ Rob Swift
Rob Swift Today…
Today, Rob Swift has continued his relentless pursuit of fresh directions, expanding his palette into the stratosphere of the academic world. Today Rob spends his time teaching DJ art world wide. He's lectured at Case Western Reserve University and Cuyahoga Community College (Cleveland, Ohio), Indiana University (Bloomington, Indiana). Participated in on site and virtual workshops for entities such as Backspinz (Charlotte, North Carolina), American Embassy Tajikistan and Colombia. Ran summer camp classes in the art of DJing for inner city youth at Progressive Arts Alliance (Cleveland, Ohio). What's more, most recently Rob taught accredited courses in the art of DJing at The New School University (NYC).
The Brolic Army DJ School
"Teaching the art of DJing has been nothing short of a blessing from God. To say I'm grateful would be terribly understating the gratitude I feel in my heart towards the opportunity to pass on an art form that has helped me facilitate the opportunity to experience myself as a mentor now. DJing has never been a commodity for me. I've never been in it for the money. I do this for the sense of purpose this artform has brought me. It's helped me create a way to feel useful to people and for that I am enormously thankful." Needless to say, Rob Swift is always in perpetual motion, continuing to push the boundaries of teaching DJ are with his new online platform, Brolic Army DJ School and connecting with students from all walks of life on a global scale!
Rob Swift's Social Media
If you want to learn more about Rob's teaching styles check out his YouTube, Instagram, Brolic Army Instagram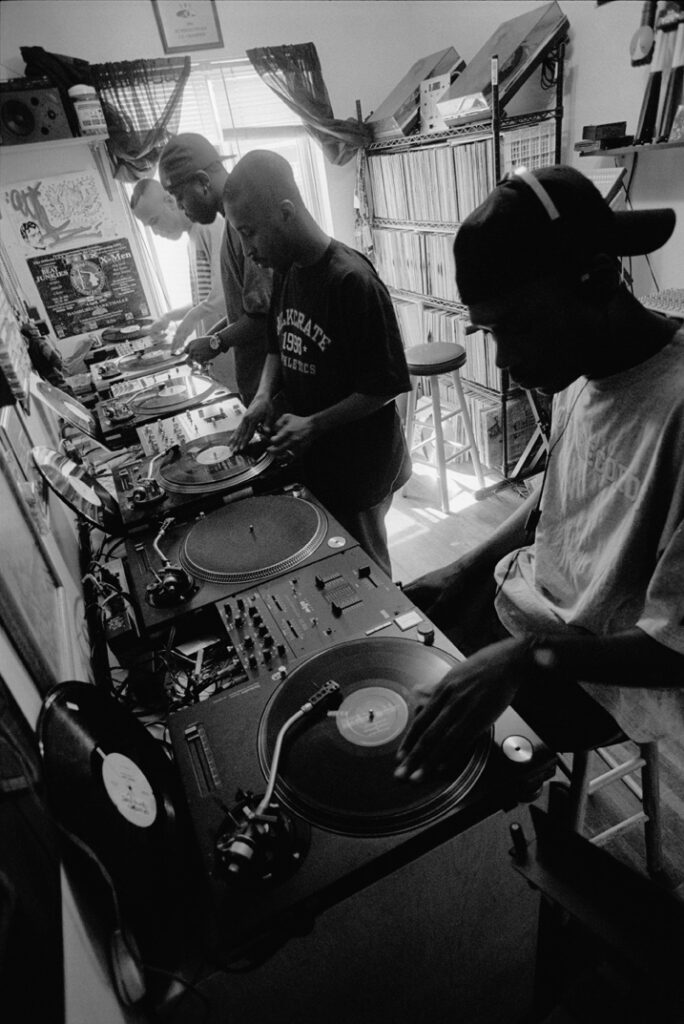 Testimonials
"Rob is an astonishing teacher, and DJ all in one. Rob is on a different level of DJing and that said, teaching his students in the Brolic Army this art form. After learning through Rob I am able to experiment and achieve so much more in the DJ world than I ever imagined."

DJ Tuug – Brolic Army Civil War 2020 Champion @lleytuug
"No matter what level you are at, or think you are at, Rob will make you a better DJ. He has a rare blend of the ability to perform and teach. It's like learning the blues from Muddy Waters, he is a true pioneer and who better to learn from than a pioneer of the craft. He will have you step your game up."

DJ Jay-Ef @realjayef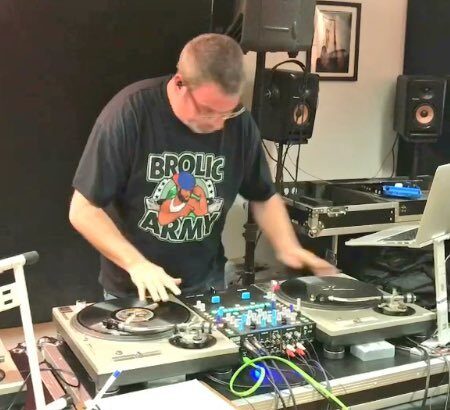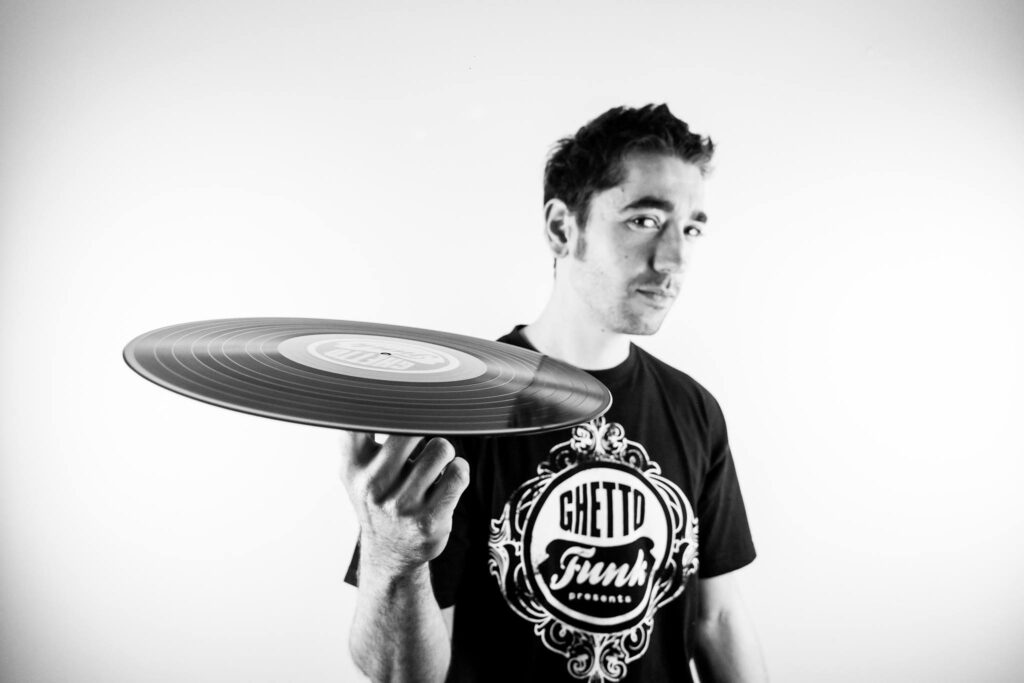 Being great at communicating, humble & most definitely knowing what he's talking about, I would highly recommend Rob Swift as a teacher for turntable arts!"
JFB @jfbdj – 2021 World DMC Beat Juggling Champion
"When I first started studying turntablism, I found the initial steps of juggling quite tricky on my own. I stumbled across a video of Rob Swift teaching students online and sent him a message to see if I could "enroll". We would have live sessions via skype once a month as well as videos to follow up on what we went through and the rest is history.

What Rob taught me in those 2 years has led me to become Brolic Army Civil War Champ, Kame House Australian Champ and most recently, 2 x Australian DMC Champ."

Wallzee – Brolic army Civil War Champion, Kame House Australian Champion and 2x Australian DMC Champion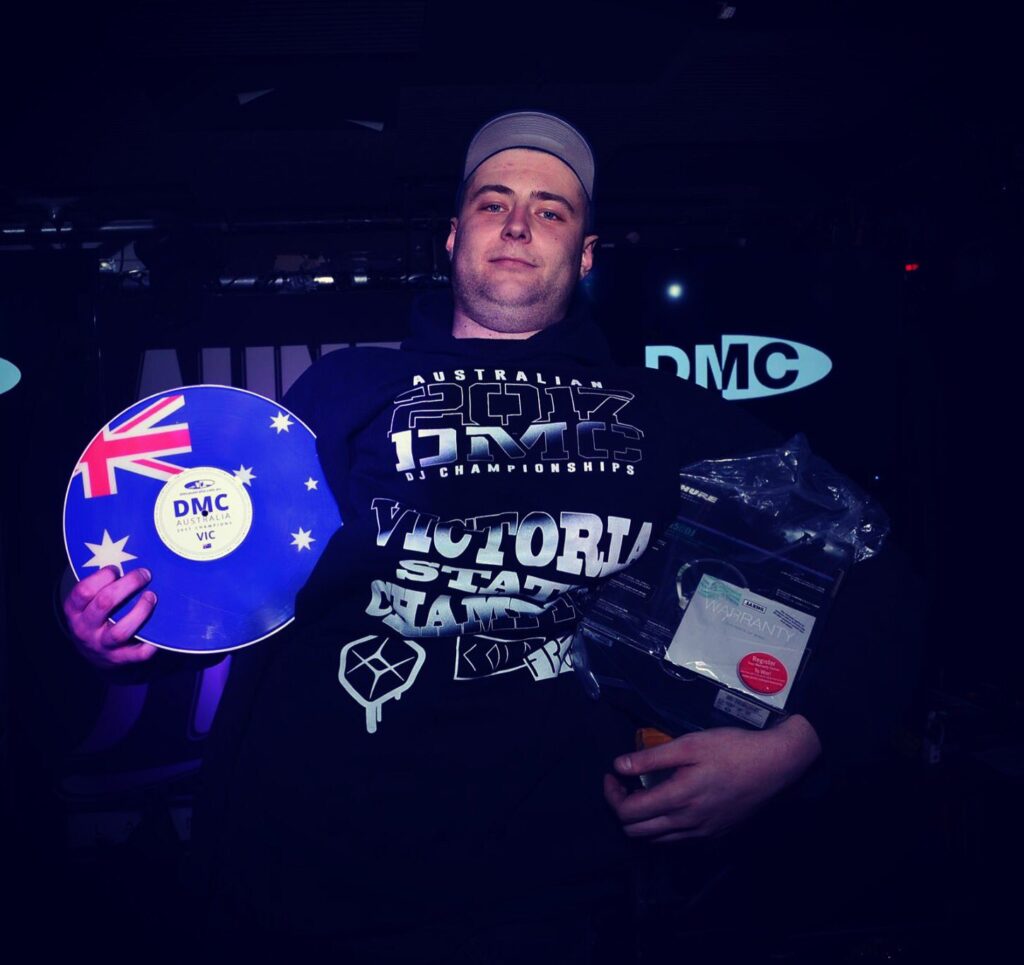 Ready to Sign up and improve your skills?
Got Questions? Send us a message. or check out our FAQ page